Salute to Salome – our Human Rights Award winner
29 Nov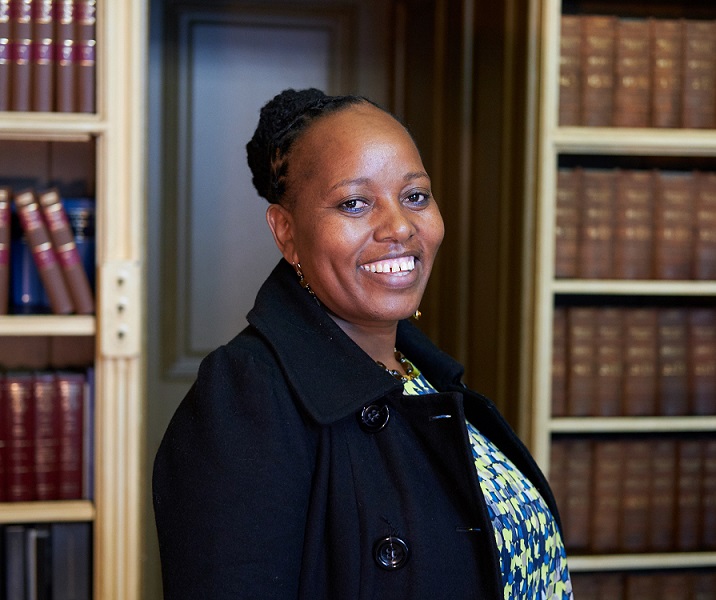 A WOMAN who emerged from the settlements of one of Africa's largest cities to help in the fight to rewrite her country's constitution has been named the first winner of the Scottish Bar International Human Rights Award.
Salome Nduta, 47, from Nairobi, Kenya, "stood out from the crowd" among 26 entries from around the world, and was the unanimous choice of a judging panel to receive the award. She has endured beatings and numerous detentions in an adult life devoted to protecting the rights of others, particularly women.
"I was overwhelmingly happy (when given the news), I never expected this. I was surprised and, of course, I shed a tear of joy," said Salome, a protection officer with the National Coalition of Human Rights Defenders Kenya.
The award, launched by the Faculty of Advocates in the summer, aims to honour men and women overseas who champion human rights in the most challenging of circumstances.
"In many countries, human rights defenders are killed and are victims of violence, intimidation, harassment and surveillance – simply for standing up for people's human rights. It is vital that we recognise their achievements and stand in solidarity with them," said Shelagh McCall, QC, Convenor of the Faculty's Human Rights and Rule of Law Committee.
"We were delighted with the number and the standard of the entries we received. Salome stood out from the crowd. Having grown up in the settlements of Nairobi, she was determined to do something to help her community, initially as a community organiser fighting against forceful evictions to now protecting human rights defenders throughout Kenya. Her commitment to standing up for human dignity is humbling to witness.
"She has been described to us by one of those whom she has protected as 'an amazing soul whose selflessness gives us a sense of peace and safety'."
STAND OUT CANDIDATE
Lord Bonomy, Chair of the judging panel, said: "We were humbled by the quality and depth of the applications. But we unanimously agreed there was one stand out candidate. Amnesty International told us that Salome's 'dedication, passion, resilience and expertise in protecting and defending the rights of other human rights defenders is unrivalled'."
Scotland's Equalities Minister Christina McKelvie, MSP, said: "I commend the Faculty of Advocates for establishing this award and Salome Nduta is a very worthy first winner. 2018 is the 20th anniversary of the UN Declaration on Human Rights Defenders, which encourages us all to be human rights defenders.
"Salome's story is one of courage, determination and a commitment to building strong Human Rights Defenders movements in Kenya in the face of threats and violence. 
"In Scotland we are determined to embed human rights in everything we do, and I welcome Salome to Scotland as an expression of our solidarity with people throughout the world who put themselves and their families at risk to uphold the fundamental human rights we all share."
Salome is spending a week in Edinburgh and has received advocacy training from the Faculty which is hoped will help her in her work. Also, she has been meeting MSPs and officials at the Scottish Human Rights Commission as she builds contacts with Scotland's human rights defenders in civil society.
"I am looking forward to learning from other people, exchanging ideas, and seeing how they overcome challenges," said Salome.
As a child, her father died and the family lost the house which was tied to his job, and moved into squalid conditions in what are known as Nairobi's "informal settlements". She helped form a federation to fight evictions, and went on to qualify as a social worker and paralegal, and became part of a number of human rights organisations devoted to "the second liberation of Kenya" through a new constitution.
One of her methods of campaigning had been through drama and dance in theatres. It led to physical beatings and more arrests than she can remember.
"Once, we hid and were trapped under a vehicle. They could not whip our backs, so they took off our shoes and whipped our feet. That was the worst experience for me, it was very painful," said Salome, a mother of two.
The constitution was signed in 2010, but life remains difficult for many in Kenya. And Salome's work continues.
OVERCOMING FEAR
"There is fear in you, but a will to speak on behalf of others. You overcome the fear with the fact that what you are doing is right," she said.
"Currently, I work as a protection officer with an organisation which supports human rights defenders. If a defender is arrested, we are able to bail them out. If beaten, we take them to a doctor. Human rights activism exposes you to traumatic experiences which can affect you psychologically. We can get them to a counsellor.
"There was nothing like this when I started and I enjoy this work because I can give what I did not receive. The work is challenging and fulfilling. You might have to go through a lot of harassment and it is challenging, but it is very fulfilling to see even a small change that you have brought about.
"You think, after this small change, that whoever comes after you, they are not going to start from where you started but from a different level, and you contributed to that. Those small changes are what keep you going."
Three defenders - Bonface Massah (Malawi), Daniel Prado Albarracin (Colombia) and Donald Hernandez (Honduras) - were highly commended by the judges. Learn about them here
Salome's acceptance speech is at https://www.humanrights.scot/2018/12/scottish-bar-international-human-rights-award-winners-speech/