Faculty honoured to chair First Minister talk
17 Jan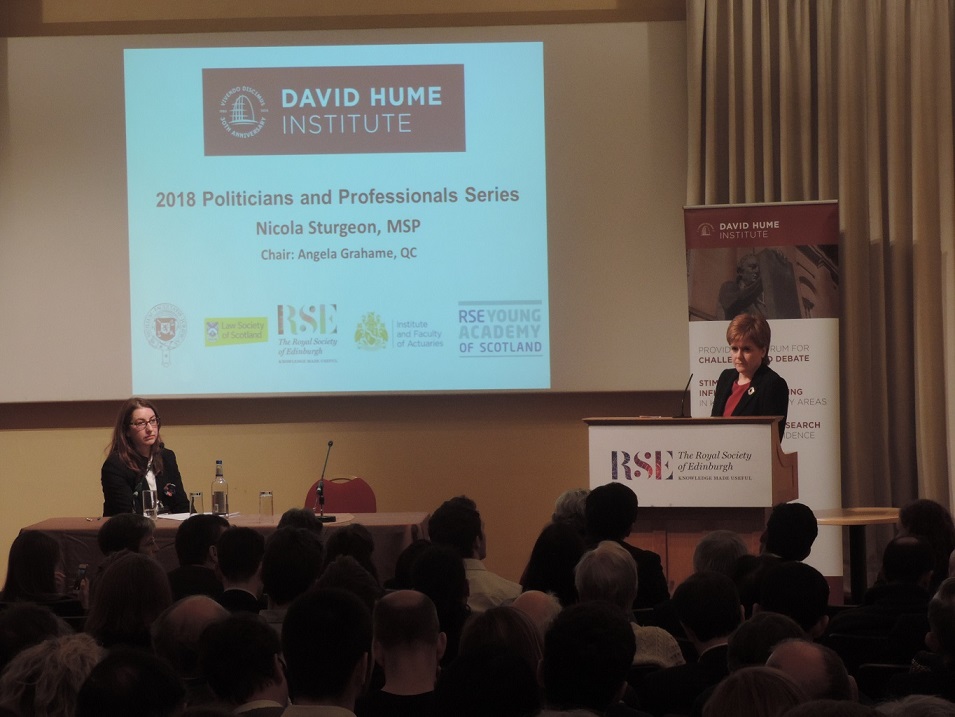 THE First Minister, Nicola Sturgeon, has kicked off a series of Faculty-supported talks by politicians on the theme, Scotland After Brexit.
The Vice-Dean of Faculty, Angela Grahame, QC, chaired the event by the David Hume Institute, which has invited each of the major Scottish party leaders to "share their hopes, expectations and concerns for our country" in its 2018 Politicians and Professionals Series.
In coming weeks, Ruth Davidson, Richard Leonard, Willie Rennie and Patrick Harvie, will give their thoughts to audiences at the Royal Society of Edinburgh (RSE), George Street, Edinburgh.
The series is supported by the Faculty, the Law Society of Scotland, the RSE, the Institute and Faculty of Actuaries, and the RSE Young Academy of Scotland.
Angela Grahame said: "For five years, the Politicians and Professionals Series has been providing a forum for interesting and stimulating debate on the most significant issues of our time. It was an honour for the Faculty to be invited by the David Hume Institute to chair the event with the First Minister, Nicola Sturgeon, and it proved to be a great success."
Details at https://www.davidhumeinstitute.com/upcoming-events/