Indian Peter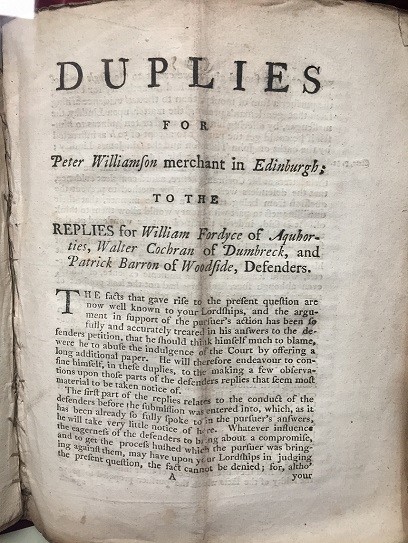 IN recent years, the Tumbling Lassie Committee, seven members of the Faculty of Advocates, has used the 1687 Court of Session case of Reid v Scot of Harden and his Lady to highlight human trafficking and modern slavery.
The records in the Advocates Library reveal another fascinating historical character who featured in litigation with slavery at its core – Indian Peter.
In 1743 in Aberdeen, Peter Williamson, aged eight, 11 or 13 according to different accounts, fell prey to a thriving slave trade in stolen children and was abducted as he played at a quayside.
He was shipped with scores of other children to North America, and sold as an indentured servant. In later accounts, he said he was fortunate to have been bought by a "humane, worthy, honest man", a fellow Scot who also  had been an abducted child slave in his youth.
Williamson said that during 13 years in America, he was captured by Native Americans and escaped, and fought for the British against the French, and was captured again. Finally, he returned to Scotland and settled in Edinburgh. He wrote about his adventures and dressed as a "Red Indian" and became known as Indian Peter.
He opened a coffee house in Parliament House and went on to become a publican, writer, publisher and entrepreneur. He developed Edinburgh's first Penny Post system. In Parliament House, he was asked often to deliver notes and letters to advocates and others, and saw an opportunity to turn this service into a business.
Mixing with the legal fraternity in Parliament House, Williamson was persuaded to sue officials and merchants in Aberdeen, whom he blamed for his abduction as a child, and he won damages in two cases.
"The Revenge of Indian Peter" by Rosemary Linnell, is one of the books written about Williamson., and it includes a credit for the Advocates Library. It is noted that the author's research had taken her to Edinburgh and had included consulting "the depositions and reports of the various lawsuits he brought which are in the Advocates Library".
The Library holds around 4,000 volumes of Session Papers – documents used in cases in the Court of Session from 1666-1868. Those are not restricted to legal pleadings and include drawings, plans and maps. The papers give a valuable insight into Scottish history, and researchers can request and then view specific cases, by arrangement through the National Library of Scotland. The archive of Scotland's official court and other legal records is held by the National Records of Scotland.
Details of the Tumbling Lassie Committee can be found here.