The Faculty Mummy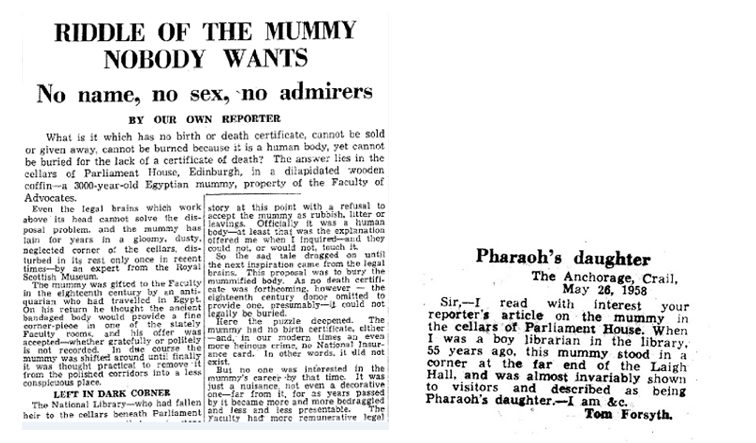 IN 1748, James Douglas, 14th Earl of Morton, an antiquarian who had travelled in Egypt, presented a mummy to the Faculty.
The Advocates Library had been more than a repository for books, and held various artworks and curios, so perhaps this gift was not as strange as it may first appear. It may also have had something to do with a simultaneous request by the Earl to hold meetings of the Edinburgh Philosophical Society in the Library.
Records show that the mummy was found a place in the Laigh Hall, where "it slumbers in a dark corner". Over time, however, it deteriorated badly. Someone partially removed the bandages from its head, apparently out of curiosity, and Faculty lore suggests that the members' Rifle Corps used the mummy for bayonet practice.
Another slice of lore recounts how the mummy was brought out to be toasted at annual dinners, and became known as Pharaoh's Daughter.
In 1906, the Faculty offered the mummy to the Royal Scottish Museum but, after an examination, it was "found to be in a condition unsuitable for exhibition".
Another inspection in 1954 produced comments from the Museum's Egyptologist that the mummy was "dilapidated beyond hope of repair" and "if it is never seen again by mortal eye, I can assure you that neither science, scholarship nor aesthetics will suffer in consequence."
No museum wanted it, nobody would buy it, and the Corporation Cleansing Department would not take it as rubbish or litter, as it was officially a human body. And it could not be buried because it had no death certificate.
An article  in The Scotsman in 1958 was headed: RIDDLE OF THE MUMMY NOBODY WANTS – No name, no sex, no admirers
But there was an admirer.
Dr A T Sandison, a radiologist in Glasgow University's pathology department, contacted the Faculty after the article was published. He had been "working on the history of such remains" and offered to take the mummy, and Pharaoh's Daughter left the Faculty in August 1958, after an eventful 210 years.
A blog about the mummy, written by Jane Condie, of the Advocates Library, is at https://veryfinelibrary.wordpress.com/2014/05/29/the-sad-history-of-the-library-mummy/