Lord Reid Building and Mackenzie Building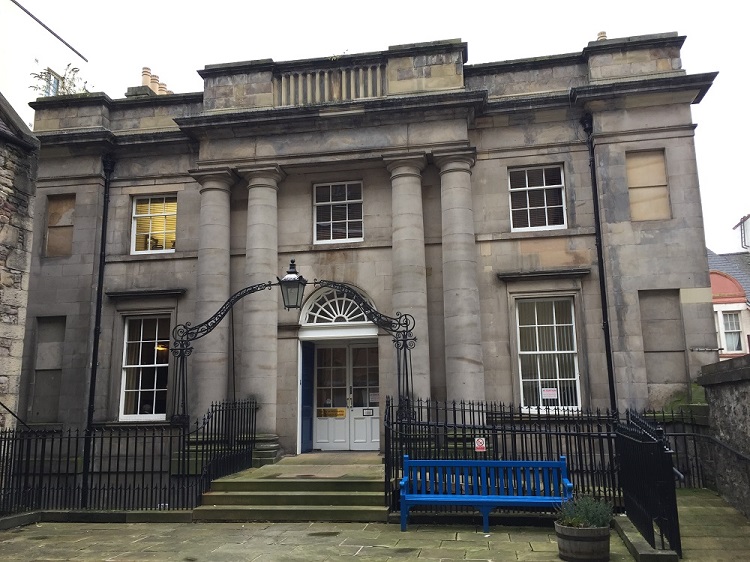 AS YOU would expect of properties in Edinburgh's Royal Mile, the Faculty's Lord Reid Building and Mackenzie Building are steeped in history.
The Lord Reid Building, behind 142 High Street, is within an enclosed court and accessed via a pend known as New Assembly Close. It houses the Faculty's Consultation Centre and is named after James Scott Cumberland Reid, Lord Advocate from 1941-45 and Dean of Faculty from 1945-48. He was also an MP.
Such was his ability, Lord Reid was appointed a Lord of Appeal in Ordinary, a judge in the House of Lords, straight from the Bar, without any intervening judicial experience. He went on to win acclaim as one of most outstanding judges of the 20th Century.
The building is Category A listed and dates from the early 19th Century, although there is an older section which had been the Edinburgh Assembly Rooms and the King's Arms Tavern. Designed by James Gillespie Graham, it was the head office of the Commercial Bank of Scotland, and survived the 1824 Great Fire of Edinburgh. In 1894, it was taken over by the Scottish National Society for Prevention of Cruelty to Children and was a children's shelter until 1973.
Next, the building was home to the Edinburgh Wax Museum, the only waxworks in Scotland, drawing 230,000 visitors a year at its peak. In the late 1980s, the Faculty bought "142" as it has become known to Advocates. The building was opened officially by the Duke of Edinburgh in 1994.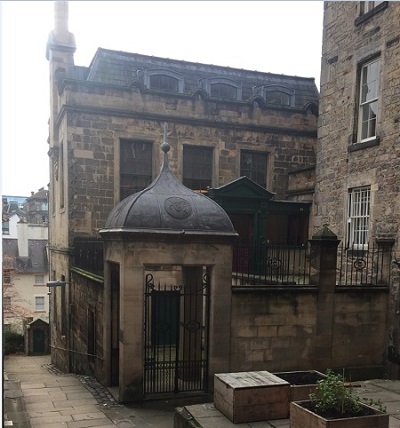 The Mackenzie Building (left), in Old Assembly Close at 172 High Street, has Category B status, and takes its name from Sir George Mackenzie of Rosehaugh, Dean of Faculty from 1682-90  and founder of the Advocates Library. He served as Lord Advocate during the rule of Charles II and earned a reputation as a persecutor of Covenanters, who called him "Bluidy Mackenzie".
The original property in the close was destroyed in the fire, and the building was erected in 1840 as a George Heriot Foundation School. The architect was Alexander Black. As the population of the Old Town declined, the school closed and the building became a print works and also a wire works. The name Smith Fletcher & Co, owner of the wire works, can still be seen above the entrance.
In the 1970s, the building became the Wireworks Theatre and hosted productions during the Edinburgh Festival Fringe, including performances of the Oxford Revue featuring Rowan Atkinson, Richard Curtis and Howard Goodall.
The Faculty acquired the building around 1984 intending to convert it into a new library, but members worried that it was too remote from the main library and the courts in Parliament House.
It has become the Faculty's training and education centre, and also boasts seminar rooms and a suite of consulting rooms in the name of Lord Rodger, former Lord Advocate, Lord President and Justice of the UK Supreme Court.