Abbotsford

Sir Walter Scott (1771-1832) was an Advocate and one of the world's greatest writers. He collected around 9000 books  and his library at his home at Abbotsford, near Melrose, remains much as he left it. The library is one of a relatively small number of world-class writers' libraries. It remains in situ and intact, with the books arranged on the shelves as they were during Scott's lifetime. The volumes, many of which are annotated by Scott, cover a wide range of subjects (history, politics, literature, science, Americana, witchcraft).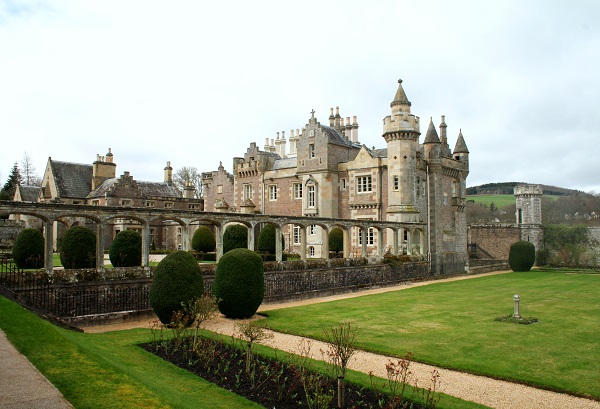 The Faculty of Advocates was entrusted with the care and preservation of Scott's library and  other artefacts at Abbotsford on the breaking of an 1839 Deed of Entail on Scott's estate. In 2011, the Faculty transferred ownership of the library and the other artefacts it owned at Abbotsford to the Faculty of Advocates Abbotsford Collection Trust. The Collection Trust works with the Abbotsford Trust to ensure the long term preservation of the collections at Abbotsford.  More information on the history of the relationship between the Faculty of Advocates and Abbotsford is available here.
Between 2003 and 2013, a full cataloguing project was undertaken by the Faculty to improve the accessibility of Scott's library. Items catalogued are searchable on the Abbotsford Library catalogue.
Many significant items have come to light during the cataloguing process. Find out more about these here.
An Access Protocol  guides decisions on access to books and artefacts belonging to the Faculty of Advocates Abbotsford Collection Trust.  Persons wishing access to items from the Trust's collection should follow this protocol.
All enquiries about the Abbotsford Library should be addressed to Sara Berry, Head of the Library, and emailed to abbotsford@advocates.org.uk.
During his life Sir Walter Scott was a prolific collector of books and manuscripts.  His library at Abbotsford reflects his many varied interests.  In particular, his collection of folk songs and ballads were used to research his Border Minstrelsy.  Find out more, including an online exhibition, here.
Find out more about research initiatives on the collections here, and to find out more about Abbotsford  visit their website.