The Faculty War Memorial
THE Faculty's War Memorial has a prominent place in the main corridor of the Advocates Library.
It was designed by Sir Robert Lorimer, the renowned Edinburgh-born architect, and was unveiled by Lord Justice General Clyde on 26 May, 1921, with the laying of a laurel wreath and to the playing of the Last Post by a bugler.
The oak panel Memorial carries 26 names and is dedicated "To the memory of those members and intrants of the Faculty of Advocates who died in the service of their country during the War 1914-1918".
Originally, the foot of the panel bore a carved wreath but it was removed when a 27th name was added after the Second World War.
On 1 July, 2016 – the centenary of the start of the Battle of the Somme – Alastair Shepherd, solicitor and historian, donated to the Faculty an in-depth study of the Memorial and the men whose names it carries.
"In 1914 the young – and not so young – men of Scotland joined the military in droves, and the Advocates were no exception. For many of them, part time military service had been a significant part of their leisure time; indeed the vast majority of the men in this publication had served in uniform before 1914. Some of them, like Robert Burns Begg KC, or Archibald Jones, had served in the Boer War. Others, like Jim Henderson-Hamilton, had joined a local territorial battalion, possibly for social or work reasons as much as military ones."
-The War Memorial of the Faculty of Advocates 1914-1918 by Alastair K Shepherd WS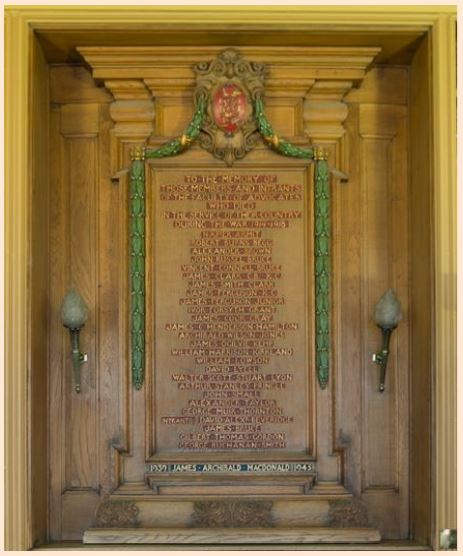 To read the full Faculty War Memorial history please click here