'Conundrum Castle', Rob Roy's gun and the key of Selkirk Jail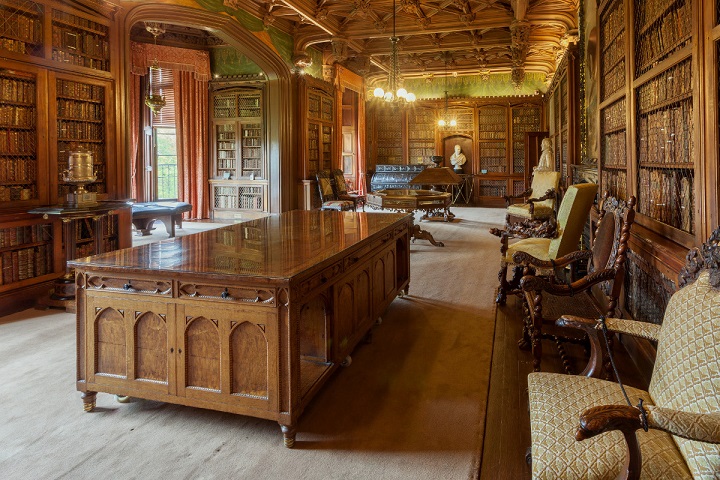 IT was bought in 1811 as a dilapidated farmhouse called Cartleyhole on the banks of the River Tweed, but Sir Walter Scott's vision for his home was every bit as great as his literary prowess.
Scott lavished time, energy and funds on the creation of a mansion he named Abbotsford, after the monks of Melrose who had owned the land and used the nearby river crossing.
He drew inspiration from architecture elsewhere which had caught his eye. The main entrance was based on Linlithgow Palace, while the library ceiling copied that of Rosslyn Chapel.
But Abbotsford had its own unique character, and just as Scott enjoyed a meteoric rise as a poet and novelist of international renown and influence, his home became an inspiration near and far.
Completed in 1824, Abbotsford led a vogue for Scottish Baronial architecture in England, America, Canada and even Russia. It influenced landmarks such as the Houses of Parliament in London, Balmoral on Royal Deeside, and the Tribune Tower in Chicago.
"It is a kind of Conundrum Castle to be sure and I have great pleasure in it…" Scott wrote of Abbotsford.
The house first opened to the public in 1833, a year after Scott's death. It passed down five generations, and the last direct descendants to live at the house were Dame Jean Maxwell Scott and her sister, Mrs Patricia Maxwell Scott. After their deaths, the Abbotsford Trust was created in 2007.
The Trust oversaw a £12 million restoration project and the house and its magnificent gardens were reopened by The Queen in July 2013. The Prime Minister at the time, David Cameron, described Abbotsford as "Scott's great architectural marvel".
The Faculty was delighted to have representatives at the grand reopening, marking its link with Scott and Abbotsford, a link which began in 1792 when Scott was called to the Bar, and continues to this day.
Aside from being a giant of literature, Scott was an advocate and a Sheriff-Depute and Clerk of Session. He is arguably the Faculty's most celebrated member, and it is a statue of Scott which graces the entrance to the Faculty's premises off Parliament Hall.
On his death, Scott's library at Abbotsford passed to his son, also Walter Scott, who executed a Deed of Entail in 1839. The deed gave ownership of books and other articles to the Faculty if the entail was ended. In 1956, Patricia Maxwell Scott executed a Deed of Disentail, and the Faculty took ownership of the books and articles.
Scott had been an obsessive collector of historical curios which he used to decorate Abbotsford, and as well as 9,000 books in the library, the Faculty became owner of items including paintings by Raeburn, suits of armour, Rob Roy's gun and purse, a pair of pistols belonging to Napoleon Bonaparte, and the lock and key of Selkirk Jail.
In 2011, the Faculty of Advocates Abbotsford Collection Trust was created and care of the books and articles transferred to it.
Online cataloguing of the library, by Lindsay Levy, the Faculty's now-retired rare book's cataloguer, took ten years to complete and she discovered a number of "lost" literary treasures.
Those included:
A letter to the King from Archibald Campbell, 9th Earl of Argyle (1629-85) pleading for his life.
Flora Macdonald's wedding lines.
The only complete manuscript of "O saw ye my Maggie" a bawdy Burns poem.
Legenda Aurea, a lavishly illustrated medieval compilation of saints' lives, probably written between 1450 and 1475. This was described as one of the most significant literary finds for 70 years.
Teuerdank, co-written by Maximilian 1, the Holy Roman emperor, and published in 1519 with 118 woodcuts by artists trained by Albrecht Durer.
The Nuremberg Chronicle, an illustrated world history first published in Latin in 1493.
The Grotesquiad, a 9,000-word poem by Scottish scholar and philosopher James Beattie who reported its disappearance in 1762.
To learn more about the Faculty and Abbotsford, see http://www.advocates.org.uk/faculty-of-advocates/the-advocates-library/abbotsford and www.scottsabbotsford.co.uk