Tokyo War Crimes Trial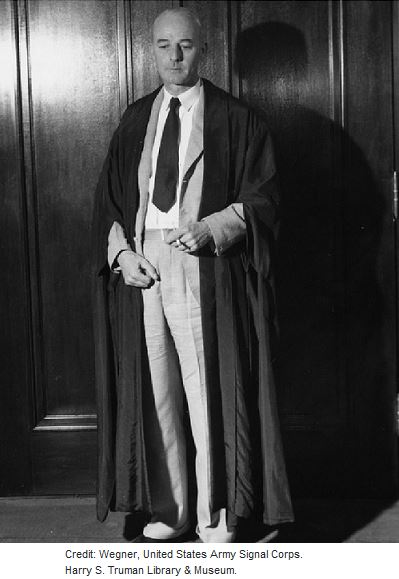 THE Faculty has a link to a war crimes trial held in Japan at the end of the Second World War.
A former Dean of Faculty, Lord Patrick (left), was the UK judge on a 12-strong Bench at the International Military Tribunal for the Far East, informally known as the Tokyo War Crimes Trial.
Twenty-eight Japanese military and political leaders were tried over two and a half years, from April 1946 to November 1948. Seven were sentenced to death, 16 to life terms, two to lesser terms, two had died during the trial and one had been found insane.
William Donald Patrick, son of the sheriff clerk of Ayrshire, was born in 1889, and educated at the High School of Glasgow and the University of Glasgow. He gained two degrees, an MA in 1909 and an LLB in 1912. He was the gold medallist in the Forensic Medicine class and took second prize in Public International Law.
He was admitted to the Faculty in 1913. At the outbreak of the First World War, he joined the Royal Flying Corps, later the Royal Air Force. He was promoted to Captain and later Flight Commander, and claimed seven victories against German aircraft. Those victories qualified him as a flying ace, also known as fighter aces or air aces. However, he was shot down by ground fire behind enemy lines near Messines in April 1918, and was taken prisoner and sent to Holzminden Camp.
After the war, Patrick returned to the Bar. In a biography, the University of Glasgow said he earned a reputation for "his sharp mind and forensic skills", and he was "a rising star". He took Silk in 1933, and in 1937 he was elected Dean of Faculty, succeeding James Keith, KC, who had become a judge, Lord Keith. He served two years as Dean before being elevated to the Bench, as Lord Patrick. He was replaced as Dean by James Gordon McIntyre, KC, later Lord Sorn.
According to the biography, Patrick's time as the UK judge at the "harrowing" Tokyo War Crimes Trial took a toll on his health and "required him to take a long recuperative rest on his return to Scotland in 1948."
He retired in 1963, after almost 25 years on the Bench. He died in 1967, aged 77.