Dalai Lama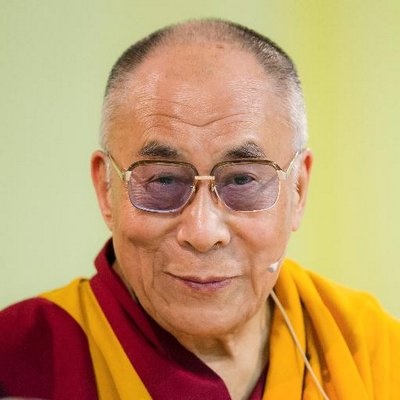 A routine Friday morning turned "surreal" for members of Faculty and staff when the Dalai Lama paid an unannounced visit.
On 22 June, 2012, the spiritual leader of Tibetan Buddhism was on a UK tour, and had engagements in the Signet Library and the National Library of Scotland in Edinburgh.
His route between the two venues - across Parliament Hall, into the Advocates Library and through a door linking the Faculty and the NLS - was a closely-guarded secret.
One of those in the know was the Faculty Superintendent, Irene Cumming, who, with the Vice-Dean, Iain Armstrong, QC, met the Dalai Lama as he emerged from the Signet Library into Parliament Hall.
"He took our hands and the three of us walked hand-in-hand down the Hall. We went into the Library and one of the members spied him and got to his feet, then all the members stood up. He spoke to various people, and none of his group or the police was expecting this," said Ms Cumming.
After the Dalai Lama completed his visit to the NLS, he returned to the Advocates Library and graciously agreed to go to the Reading Room where he signed the Faculty's Visitors' Book, and tried on an Advocate's wig!
"There is just something special about him. It was incredible, unbelievable. I cannot explain it. This peace comes over you when you hold his hand," said Ms Cumming.
Usman Tariq, Advocate, recalled: "There were only a few of us in the Library at the time and the Dalai Lama and his entourage walked through the Upper Corridor greeting members. We shook hands and briefly chatted about my work. He had a wonderful aura about him. Smiling, warm and chatty. He immediately put all of us at ease.
"As more members made their way into the Library, I took great pleasure in telling friends over coffee in the Reading Room that they had missed seeing the Dalai Lama. However, much to their delight, the Dalai Lama and his entourage entered the Reading Room. He signed the Faculty's guestbook, inspected a member's wig, and even tried it on to much amusement.
"After a few goodbyes, the Dalai Lama was on his way, as I reflected on a surreal and memorable Friday morning at Faculty."
Another member, Nick Holroyd, was having a somewhat challenging day, struggling to make sense of a document which, it transpired, had several pages missing.
"I heard a voice, saying, 'You have a headache?' I looked up to see it was the Dalai Lama," said Mr Holroyd.
He recalled that the Dalai Lama "insisted on shaking hands, and we had a conversation, including my mentioning that I had seen him before, about 20 years prior -  just outside my doorstep at Christ Church. The Dalai Lama enquired, 'New Zealand?' and I said, 'Oxford.'
"I was thrilled to speak to him and impressed by the calm he exuded. An extraordinary day and an uplifting experience."