Thomas Muir of Huntershill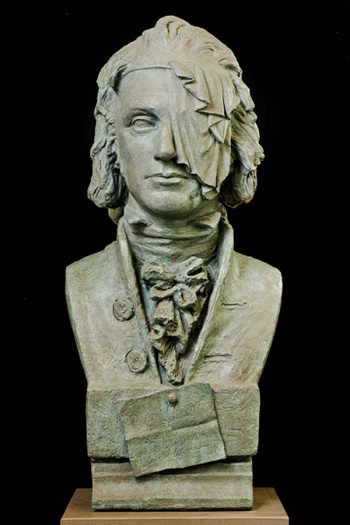 Thomas Muir, often referred to as the "father of Scottish democracy", is one of five men commemorated on the Political Martyrs' Monument on Calton Hill, Edinburgh.
The son of a hop merchant in Glasgow - the family lived at Huntershill House, Bishopbriggs - Muir studied at both Glasgow University and Edinburgh University, and had intended to enter the church but decided on a legal career.
In 1787, at the age of 22, he was admitted to the Faculty of Advocates. Also a church elder, he secured a reputation as a man of principle and anti-establishment. He occasionally pleaded without fee for those he considered oppressed.
Muir became a leading figure in political reform movements and was arrested in 1793 and charged with sedition. He was released on bail, and went to France to remonstrate against the proposed execution of Louis XVI. In his absence, he was declared a fugitive from justice and, as a result, the Faculty expelled him from membership.
After returning to Scotland, Muir's trial was set for 30 August, 1793, in the High Court in Edinburgh.
Muir said to the court: "I admit that I exerted every effort to procure a more equal representation of the people in the House of Commons. If that be a crime, I plead guilty to the charge. I acknowledge that I considered the issue of parliamentary reform to be essential to the salvation of my country; but I deny that I ever advised the people to attempt to accomplish that great object by any means which the constitution did not sanction."
Muir was convicted and sentenced to 14 years' transportation to the penal colony at Botany Bay in Australia. In 1795, he was rescued by a party despatched from New York where his case had attracted much sympathy. He survived a shipwreck and other "adventures" including serious injury to his face from a cannonball. He went to France, where he was acclaimed as a "Brave Scottish Advocate of Liberty" and where he died, aged 33, in 1799.
In 2020, after research by a member of Faculty, Ross Macfarlane, QC, court papers from 1793 were discovered, showing that Muir had appealed against the decree of fugitation granted against him, and that the appeal had been successful.
The decree had been the reason for Muir's expulsion from the Faculty, and Mr Macfarlane petitioned for his name to be returned to the roll of members. The petition was granted and, after 227 years, the name of Thomas Muir of Huntershill once again appeared on the roll.